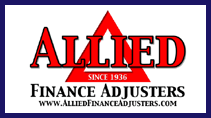 Thank You Lenders, Agents and Vendors!
Allied would like to thank all who visited the AFA website and utilize our bonded, licensed, CFPB Trained and Professional members in 2014. Our 2014 website stats indicated we had over 1,650,000 overall page hits, of that over 91,600 are returning visitors. Over 6,200 assignments passed our secure and compliant portal, directly to our members, no third party software here! In October 2014 AFA hit a milestone of over 315 members, not office locations but actual members! AFA is by far the largest membership of any repossession trade association. Our 2014 78th Annual Convention in Chicago partnered with RSIG drew over 500 attendees! Our "You Tube" page reached over 10,500 views and our LinkedIn connections are over 1,300.
Visit our website and test drive our new "Interactive Member Search Map", Download our members compliance documents in one click and check out our new Gold Star Member Recognition system, at "www.AFArepo.com" Do a member search, by your debtors city, state or zip code and on the results page hover your mouse over the "Gold Stars" and "Green Check Marks" for the compliance documents. You will also see the actual mileage from your debtor to the closets AFA membersí actual physical office location.
Don't forget to check out our new "State Requirements" pages. Here you will find the repossession laws and state facts for all the states. By far the most comprehensive compellation of state information than any other repossession association in history!
While other trade associations are busy marketing towards the younger agents, our answer to that is simple! Attend an "Allied Annual Convention" the average age of our membership is 46 and our median age is 47. Our members are younger and the most innovative, brain storming, technology driven and certified professionals in the repossession industry. Just check out our "Videos" page of our past events and see for yourself!
Thank you to all who have made Allied what it is today! We hope to see you at our 79th Annual AFA / RSIG Joint Convention in June! Remember Clients attend for Free! Visit our "Annual Convention" page.